Mary-Kate Olsen probably started this strapping-yourself-up-like-SM trend by wearing what's hot now known as " Gladiator Sandals".
I don't remember seeing it but all this straps just reminds me of Anicent Jerusalem culture, and such footwear is definitely useful for Easter production :D and i called it, the " Jerusalem shoes " .
After much research, i found out that it was actually inspired by the Ancient Roman empire Fashion. It was the common footwear back then and they were many types.
3.The sandals (solae or sandalia). This type of shoe was not suitable during winter and having enough economic was used by people who could not afford other types of more expensive shoes. For persons belonging to a certain rank, in fact, was not prestigious out in public with sandals. These shoes held firm at the foot by strips of leather that went directly from the sole and, placing themselves between the fingers, neck climbed on foot, while in the back or on the sides of these strips (amenta - habenae - obstragula) put in rings which started from leather soles and continued upward where stops were the other strips in a leather collar that descended from the ankle. By pulling these strips and attaching the strings as if they were close and approaching the collar with the sole of the sandal, collecting and taking firm foot.
source from: http://hubpages.com/hub/The-footwear-of-the-ancient-Romans

and in fact, i found a picture on romans dressing.


and i saw that the middle class shoes looks disturbingly familiar.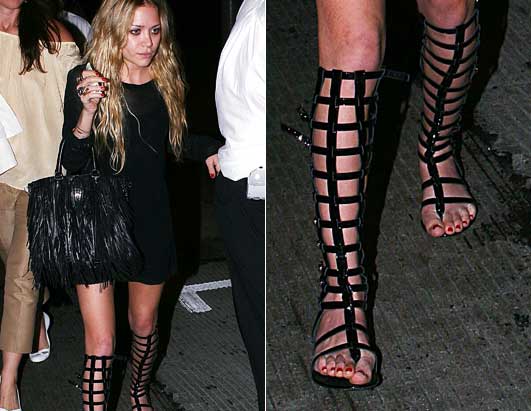 MIDDLE CLASS. BAH! (even though it's chanel)
GGS 2-cents worth :
1 ) Gladiator sandals is seriously not in my wish list. firstly, unlike heels, gladiator sandals doesn't make me feel like a diva.
2 ) It's just another passing trend, like the previous " must-have" cheap rubber pumps. i don't mean that it's not nice, it's just not in trend anymore. and i'm thankful i didn't own a pair.
3 ) this reason is simply practical : imagine wearing something like Mary-Kate's and walking in orchard road under the hot sun, and at the end of the day when you remove the sandals, you realise you become half a zebra.
buy worthy ? not really.